Crooked lighthouses and wonderful bignesses: books for kids
Lisa Doucet of Woozles shares some of her favourite new books for children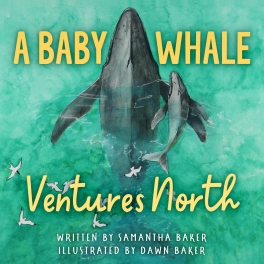 Samantha Baker, illustrated by Dawn Baker
Flanker Press
(Ages 0-6)
A mother-daughter duo combine their talents to create this delightful tale of a mother and baby whale.
The pair of humpback whales embark on a long journey northward until they reach the cold waters off the coast of Newfoundland. The young calf has never been so far from the tropical waters where she was born, but she feels safe and secure with her mother always at her side.
She soon discovers that this new part of the world is home to a tremendous abundance of capelin, the tiny fish that humpbacks like to eat. There are many other discoveries for the curious calf as she explores the ocean waters: fascinating plant life and creatures that live deep underwater; shipwrecks and coral reefs; boats filled with people at the surface who clamour to watch the antics of the playful calf and her mother.
When the summer draws to a close, the young whale knows that she has learned many new things and is ready for the next adventures that await them.
Samantha Baker's simple and accessible text provides children with a fascinating look at the life of humpback whales and their underwater home. The story of this one calf's journey gives readers basic information about humpbacks and their ocean habitat while also conveying a sense of the close relationship between mother whales and their offspring, and highlighting the playful, curious spirit of this particular young mammal.
Dawn Baker's fastidious and uncluttered illustrations heighten the book's impact as they bring the creatures and setting vividly to life on the page. With thin black outlines and a rich colour palette, the images are delicate and dynamic. The skillful linework and vibrant scenes provide visual references that will delight readers of any age.
Doretta Groenendyk
MacIntyre Purcell Publishing
(Ages 4-8)
The Shubenacadie Wildlife Park is a much-loved Nova Scotia attraction that is home to a vast array of creatures, including its most renowned inhabitant, Shubenacadie Sam, the groundhog who is credited with predicting the arrival of spring. In her latest book, Doretta Groenendyk tells the story of Sam's adventures on Groundhog Eve as he anxiously awaits the next morning when everyone will gather to see if he will see his shadow.
Sam finds himself unable to sleep on this beautiful winter's night and his mind starts to wander. "Will the other animals at Shubenacadie Park have shadows too?" he muses. And off he goes to find out!
As he makes his way through the park, Sam encounters a snowshoe hare, a moose, a barred owl and many other animal friends. Some of them are wide awake while others are snug and sleeping. Each them casts an interestingly-shaped shadow, as do the trees and the logs.
"Can a shadow predict the arrival of spring?" he wonders, as he finally drifts off to sleep.
This gentle, lovely tale takes young readers on a snowy nighttime journey and introduces them to a number of the animals that make their home in this park. Groundhog Sam discovers many things on his late-night ramble, such as which other creatures are awake and on the prowl and which ones sleep at night.
He notes the different shapes that each shadow makes and that all the shadows disappear when the moon becomes obscured by the clouds. Groenendyk's whimsical illustrations are dark-coloured but diffused with light and richly textured.
Soft and inviting, her nocturnal winter landscapes are expansive and colour-saturated, a beautiful visual evocation and celebration of the magic and mystery of nature and the world around us.
Cathy Leblanc & David Chapman, illustrations by Loretta Gould
Formac Publishing
(Ages 5-9)
While this book is structured as a set of stories of Holly and her auntie as they make their way through the seasons and months of the year, it is also a captivating look at the culture and traditions of the Mi'kmaq. The authors describe how the Mi'kmaq used the changing phases of the moon to create a calendar of lunar months which they named according to the significant events that they associated with each month (like Rivers Freezing Over Time; Birds Laying Eggs Time; Trees Fully Leafed Time).
Holly is curious and eager to learn as her auntie shares stories with her about each month, telling her about how it got its name, the traditions that the Mi'kmaq associate with each month and season of the year, and corresponding facts about the natural world.
A fascinating blend of natural science and stories, this book is thoughtfully designed and formatted with the information clearly presented in each section and on each page. Providing the descriptions of each month as a set of stories that Auntie relays to Holly highlights the importance of storytelling in Mi'kmaq history and culture, while also allowing readers to see through the eyes of a young girl who is learning about, and embracing, her own culture in a modern context.
Additional sections at the beginning and the end of the book give valuable insight into the ways in which the Mi'kmaq relate to the natural world, as well as fascinating information about world calendars in general, and a description of Etuaptmumk, or two-eyed seeing.
Loretta Gould's illustrations add an extra element of warmth and wonder. Each one is vibrant, light-infused with thin black outlines that create a sense of depth and detail and help capture the profound appreciation of nature's wonders that permeates this entire book. In terms of text and informational content, images and design, this is an absolute gem.
Carol McDougall
Boulder Books
(Ages 5-9)
With its gentle and reassuring refrain of "jellies in the belly. Swim far sea turtle, swim far," this fact-filled story gives young readers an intriguing glimpse into the world of leatherback sea turtles.
From her earliest moments as a hatchling on the beach who makes her way to the ocean, this young sea turtle constantly searches for her favourite food: jellyfish! Lally spends many years in warm, tropical waters but does eventually travel north.
While she faces a variety of dangers, Lally and all of the leatherbacks are an important part of the ocean ecosystem as they feed on the jellyfish that eat other fish and thereby deplete those fish stocks. And although humans can endanger the lives of ocean creatures, they can also help wounded or entangled animals as they learn about Lally and her kind by observing her and tracking her movements.
Lally eventually begins to look for a mate and to ultimately make her way back to the warm waters where her life began so she can lay her own clutch of eggs before she resumes her never-ending quest for "jellies in the belly."
Informative and entertaining, Carol McDougall's account of one leatherback's life and adventures will help young readers gain insight into the world of these turtles as well as a sense of the interconnectedness of the various creatures who inhabit and occupy the world's oceans. Birds and fish and turtles, along with jellyfish and polar bears, are each shown to contribute in their own way to a healthy ocean habitat.
Brightly saturated, uncluttered ink and watercolour illustrations focus attention on Lally and provide an artful depiction of her underwater world. The "Did You Know?" section at the back provides valuable further information while the instructions for creating one's own artwork invites youngsters to explore their own creativity.
Diana Daly, illustrated by Bruce Alcock
Running the Goat
(Ages 8-12)
Inspired by the stage show If a Place Could Be Made, this book is Diana Daly's loving ode to her great-aunts and uncles and an inspiring story of faith, family and fortitude. As in the original show, this book shares the story of Daniel and Kitty Daly from Saint Mary's, Newfoundland and their big, boisterous family.
Daniel and Kitty had 12 children and of these six were born with skeletal dysplasia. Diana Daly creates a snapshot of their lives as the family grew and of the love and laughter that permeated and defined their home. In addition to rhapsodizing about the "house full of love" that Daniel promised Kitty and they then created, this book provides individual vignettes about each of these six great-aunts and uncles who lived very full lives in spite of their health issues, each contributing in their own way to the health and happiness of their family.
While this is a deeply personal story that vividly manifests the author's pride and love for her family, it is also a remarkable testament to one family's tremendous strength of spirit and a true inspiration for all. With a candid and conversational writing style, Daly invites readers into this time and place, very poignantly capturing a sense of the community and of Daniel and Kitty's firm faith and convictions.
There is a warm feeling of nostalgia throughout and a heartwarming recognition of the importance of acceptance and inclusion. Daly introduces these men and women by recounting anecdotes from each of their life stories.
Alcock's loose, bold and thickly outlined illustrations, with their gentle washes of colour, provide their own joyfulness and perfectly capture the spirit of this bighearted tale.
While readers may be interested to know more about skeletal dysplasia, they will undoubtedly be inspired and moved by the resilience of this family.
Where the Crooked Lighthouse Shines
Joshua Goudie, illustrated by Craig Goudie
Breakwater Books
(10-13 Years)
"Oh, but now that you're here, since the storm drove you in / we should take down a book of the tales that I spin."
Thus the narrator welcomes a visitor to their crooked lighthouse home where everything that isn't nailed down rolls away (even the dog!). What follows is a selection of sinister and spooky tales featuring a variety of terrifying creatures.
From the evil Lord of the Cod to the giant sea creature known as the Nanurluk, each story introduces a villainous foe to be outwitted or otherwise overcome. The Hag is a hideous fiend who sits on children's chests and fills their heads with bad dreams, but who is eventually convinced to embrace a career change.
The fearsome Wild Baloney finds himself "sizzled, baked and burned" when a gigantic sneeze propels him into the burning stove. Changelings and fairies also find their way into these ghoulish verses that the narrator spins until dawn.
Delightfully dark and filled with foreboding, these grim and ghostly tales will keep young readers wide-eyed and hanging on every word. Told in rollicking verse, this series of narrative poems is jaunty and boisterous and begs to be read aloud in hushed tones.
Each poem is its own darkly humourous adventure and the poetry itself is lively and rhythmical with a musical cadence that leaps off the page and tongue. With its heavily ominous atmosphere and the vivid depictions of each being, this collection of tales will send shivers up the spines of its readers and listeners.
The illustrations are equally atmospheric, at times suffused with an unnatural light and/or saturated with a dense, inky blackness. The facial expressions are dynamic and the compositions are energetic and provide a heightened sense of urgency and otherworldliness.
Altogether, this is a spine-tingling series of story poems capturing unique aspects of Newfoundland and Labrador lore and legends.
Laura Best
Nimbus Publishing
When 13-year-old Lark Harnish arrives on Mrs. MacMaster's doorstep, ready to begin her new job as the hired girl, she is determined to prove herself to her stern and demanding employer. Since her father passed away, times have been tough for her grieving family and she knows how much mama needs the money that this job will provide.
Somehow nothing she says or does seems quite right and she worries she'll never make it past the trial period Mrs. MacMaster has set. Lark desperately misses her own home and family, but she also begins to see the sadness that has engrained itself in the MacMaster home where they also have suffered a terrible loss.
As she gets to know the MacMaster children, she realizes that their big, beautiful house with all its finery does not make up for the love and laughter it lacks. Can she keep her opinions to herself and be the quiet, dutiful hired girl that the MacMasters expect her to be? Or will she be the one to help this hurt-filled family find its way?
From the very first page, Lark Harnish is an amiable and endearing protagonist. Her genuine love for her family, her kind and tender heart and her unfailing ability to see the good in those around her conspire to make her an unforgettable heroine, even when she makes mistakes or loses her temper.
Author Laura Best has once more crafted a timeless story that brings to life a bygone era and explores the myriad ways in which grief manifests itself. Her depiction of family life in rural Nova Scotia in the early 1900s is evocative and earnest, filled with emotional resonance. She beautifully captures Lark's voice in this wholesome, sweetly satisfying historical fiction.
Jo Treggiari
Nimbus Publishing
(young adult)
An opulent mansion on a hill sits empty, a lavish reminder of Emerson Bradley's spectacularly failed real estate development that ruined the lives of many people in his small town. Now it is the perfect spot for an epic back-to-school bash hosted by his son, Mal.
Martin's father was one of the Heartwood Homes' victims. Now Martin is at this party longing to reconnect with his friends and former life.
Frankie is there for Jessa, her best friend who is hoping there may be something special between her and Mal. And Cara is there for other reasons entirely: to rob the rich and hopefully find some things to make life a little easier for herself and the girls who have become her makeshift family.
When Frankie and Martin find Mal Bradley dead, all three teens become embroiled in the quest to determine who killed him, and why.
GG award-nominee Jo Treggiari has created a tense, riveting murder mystery that provides thought-provoking glimpses into the lives and hearts of many of its primary and secondary characters. The three alternating narrators are well-rounded, sympathetic individuals who are believably flawed and achingly real.
Their relationships (with their families, friends and each other) are complex and nuanced. The story is carefully constructed with enough clues to keep readers fully absorbed in the mystery while also becoming deeply invested in the life stories of each character.
Treggiari has created a satisfying whodunit that also invites readers to look beyond the surface to see the realities and influences that have shaped the lives of its denizens. She provides an affecting look at the motivations that can lead people to think and want and to do things they might never have imagined.
Lisa Doucet is the co-manager of Woozles Children's Bookstore in Halifax. She shares her passion for children's and young adult books as our young readers editor and book reviewer.
?>